Things I Love: Samsung Galaxy Avant
To my children (which I don't have) and my children's children (I swear I understand how this works): I hope someday I'll force you to read this and learn about my life, like a time capsule that's full of worthless heirlooms you're obligated to keep.
It's nearly 2018, and I'm still in love with my Samsung Galaxy Avant smartphone. I just realized this because I'm considering buying yet another, as mine finally nears its end. This isn't a post about a phone, though; it's about noble technological ideology that doesn't receive the credit it deserves.
The Avant was
released nearly 3.5 years ago
on July 30, 2014, as a highly functional, low priced, consumer friendly smartphone. It retailed for a little more than $200, received favorable reviews, and generally achieved its intentions. Some note very minor issues with its speed, quality, battery life, auto correct, screen and camera, and most praise its optimal size. Far more will praise its ease-of-use, overall quality and great value.
I think it's notable because it embodies my favorite style of technology; an efficient, effective package of refined, validated ideas. It's like
the sealed crustless sandwich
, the working man's improvement upon an already strong original. It's like a late-console-life video game built upon its generation's best ideas instead of new ones, but without the fanfare of the rare and obscure. It's the
Kirby's Adventure (NES)
of smartphones. It would be more well-known had it been born more recently, during T-Mobile's rapid growth spurt.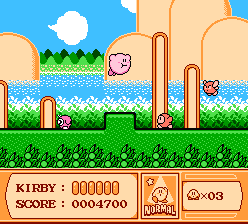 Together, my wife and I have owned a total of four Avants in a 2.5-3.5 year span. Another would be our fifth. One catch is that we buy them used, usually for around $60. A second is that they never "break" so much as I debilitate them; we may still be on our originals if I hadn't dropped one and spilled water on another. I don't feel even a little bit bad for dropping $240 in three years on phones for two people, considering modern phone costs.
Ultimately, and on my original point, this isn't exactly an ode to a B+ phone at a C- phone price. It's a salute to resourcefulness, and to bringing out the best in what we have. It's a hardy, metaphorical handshake with those who desire refined understanding more than advancing for the sake of advancing. It's a grateful nod to good technology finding its way into more homes.
It's also a sort of celebration of life for my relationship with the Avant. While it would be easy to go get yet another, I'm eager to find the "next" Avant. I'm ready to step two years forward, so I'll only be two years behind, and in two years maybe I'll write another post like this in appreciation of another great idea like that.